What's inside?

The book has chapters on food, weight, beauty, sex, sleep, exercise, emotional health and more. Authors Paula Mee and Kate O'Brien had a lot of questions when they reached menopause. These questions led to the writing of Your Middle Years, a road map to guide women through the changes occurring in their bodies during menopause.

Your Middle Years will help you anticipate the natural, physiologic and metabolic changes you will go through and offer advice and useful solutions to help you feel strong, vibrant and very much in control of the transition. The book also explains body fat redistribution and how to manage weight at this time. It contains a sample 1500kcal meal plan and over 30 nutritious recipes, showing calories per portion.

What is menopause?

The word 'menopause' is a combination of two Greek words that, when translated literally means "the end of the monthlies". Menopause is a specific point in time marking the permanent end of fertility, which occurs when a woman's ovaries stop producing eggs and the hormones oestrogen and progesterone decline. We define it as a year without periods. The average woman reaches menopause at about the age of 51, although it can vary from the 30s to the 50s. Menopause can also occur if a woman's ovaries are surgically removed.

Love them. Live them. Own them.

Growing old is inevitable, let's make the most of it. With advice on diet, beauty, sex, sleep, emotional health and more, Your Middle Years will empower you before, during and after the menopause, helping you to anticipate and manage the changes.

Have a sneak peek of one of the delicious recipes from Your Middle Years below.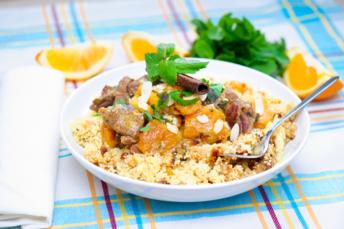 Moroccan Lamb with Apricots, Almonds and Mint

Serves 5, 353 calories per portion, 1500 calorie meal plan

Ingredients

2 tbsp olive oil, 500g lean lamb, cubed, 1 chopped onion, 2 crushed garlic cloves, 700 ml lamb or chicken stock, grated zest and juice of 1 orange, 1 cinnamon stick, 1 tsp clear honey, 175g ready to eat dried apricots, 3 tbsp chopped fresh mint, 25g ground almonds, 25g toasted flaked almonds, black pepper.

• Heat the oil in a large casserole dish. Add the lamb and cook overa medium-high heat for 3-4 minutes until browned all over, stirring frequently. Transfer the lamb to a plate using a slotted spoon.
• Stir the onion and garlic into the casserole and cook gently for 5 minutes until softened.
• Return the lamb to the casserole. Add the stock, orange zest and juice, cinnamon, honey and season with pepper. Bring to the boil, then reduce the heat, cover and cook gently for 1 hour.
• Add the apricots and two-thirds of the mint and cook for 30 minutes until the lamb is tender. Stir in the ground almonds to thick the sauce.
• Serve with the remaining mint and toasted almonds scattered over the top.


Top tip: Serve with couscous and broccoli.

About the Authors

Paula Mee is a member of the Irish Nutrition and Dietetic Institute (INDI). Through her nutrition consultancy, she advises on a wide range of conditions. Paula writes a regular column in The Irish Times Health Supplement. She is the consultant dietitian on TV3's Doctor in the House and was the dietitian on the RTÉ's Health Squad.

Kate O'Brien has enjoyed many years in the health, beauty and spa industries in London, Dublin, Singapore and Hong Kong, and is an established writer on lifestyle and spa culture. She is the author of six lifestyle books.

Keep up to date with Paula and Kate on Twitter and follow us at @Gill_Books and like us on Facebook for the latest author news.

Stockists:

Available from all good book stores nationwide and on the Gill Books Website.