Crossing the line - what does it take to make good people do bad things?
'As chilling as it is revealing about the criminal mind – scarier still is how close we all can be to crossing the line. A must read.' David McWilliams

In The Line Ireland's leading forensic psychologist draws the reader into the disordered criminal mind, unravelling the motives of violent and prodigious offenders and mapping the fine line between right and wrong – the set of life circumstances that could make any of us cross over into criminality and violence, highlighting that there aren't many differences between us and them.
What's inside?

Here Ian Gargan shares the insight he has gained into what motivates criminals to entrench themselves in violent, sadistic, sexually masochistic or downright manipulative and dangerous behaviours. From juvenile delinquents to psychopaths and sex offenders, it is a fascinating exploration of how environmental factors, life history, medical past and genetics can contribute to criminal behaviour but also, how 'normal' some of these people are.
In The Line you will get inside the criminal mind and discover how all of our behaviours are shared and, frighteningly, that we are all capable of crossing the line in some way, whether with intention or by accident, premeditated or not.
Keep up to date with Dr Ian Gargan on his website and Twitter. Get your copy of The Line on our website and in all good bookshops online and nationwide!
Follow us at @Gill_Books on Twitter, gillbooks on Instagram and like us on Facebook to keep up to date with our latest news and events.
About the author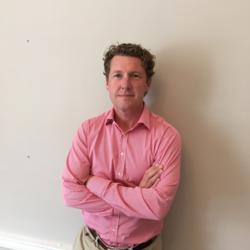 Dr Ian Gargan, BSc, MSc, MB BCh BAO, MBA, Reg Psychol AFPsSI (PsSI), CPsychol FBPsS (BPS), is the Clinical Director of Imagine Health, a Dublin-based medical and psychology clinic. Ian received his BSc in Applied Psychology from the National University of Ireland, Cork, in 1996 and his MSc in Forensic Psychology from the University of Leicester in 1997. He went on to study medicine at Trinity College Dublin, obtaining his medical degree in 2004. Following the receipt of an MBA from UCD's Michael Smurfit Graduate Business School, Ian established Imagine Health in 2009 and practises in Ireland, the UK and USA as a Medical Director and Forensic Psychologist, in addition to teaching as an Honorary Professor for the University of Nottingham. He lives in Dalkey, Co. Dublin, loves to cook Indian food and cycle with his gang of close friends, the aptly titled 1 Direction. He has two children.