The Happy Medium Chapter 6 Extract: JOMO: Turning Fear into Joy
The Joy of Missing Out

The Happy Medium is a self-help guide to swapping the weight of 'having it all' to having more with less. Bestselling author, Annmarie O'Connor, a self-styled 'inexpert expert' on the subject of mindfulness, will help you gain perspective on your personal satisfaction by using positive psychology to clear unsustainable expectations of what constitutes a life well-lived.
How much I missed, simply because I was afraid of missing it. Paulo Coelho, brida
There's a story I love to tell about my mother, who, in a bid to avoid an unannounced visitor, hid in the front closet of our house and had my sister answer the door. The interloper, who somehow managed to invite herself in, stood chatting in dangerous proximity to my mother's not-so-secret hiding place. As Mrs O puffed away on her lit cigarette while drinking a cup of coffee (in the dark), my sister caught sight of a thin trail of smoke escaping from the wood shutters. To her credit, she somehow managed to shimmy the guest outside, away from the incriminating evidence, before the faint odour of menthol could give the game away. 'I just couldn't face company,' admitted my mother, almost pleadingly, while still sitting in the closet, still smoking and rather happy, truth be told.
Who could blame her? Sometimes we all want to hide from the world, especially with the incessant demands on our time these days. It can be exhausting trying to be all things to all people (some of whom we don't even like) when all we want to do is find our own closet in which to have a quiet ciggie and a hot scald.
Fear of unwanted social interaction notwithstanding, the fear of missing out (otherwise known as FOMO) can be an equally difficult anxiety to shift. No one likes being left in the shade, although some do choose to smoke in the dark! It's just not in our DNA. Community bonding underpins our most basic human instincts, a fact that has been cleverly tapped into by our permanently-connected, socially-networked culture.
Prehistoric physical threats (being pursued by a wildebeest) have evolved into equally acute emotional fears about perceived social exclusion (the equivalent of becoming a wildebeest treat), which keeps us primed and online at all times. Thought Netflix and chill was a good idea last night, did you? Not anymore. Just look at everyone having fun – without you. Ah, diddums. Is that regret I smell?
A bit of background: the term FOMO (fear of missing out) was first coined in 2011 by entrepreneur and investor Caterina Fake in a blog post entitled 'FOMO and Social Media'. According to Fake, the online platforms and social networks that we've all come to love both create and cure FOMO. In other words, scrolling through feeds may reinforce the feeling that we're missing out but, by the same token, they also give us to a sense that we're participating, even when we're not. So essentially you are at that invite-only London Fashion Week party, even if you're actually sitting alone in your studio flat watching Frasier reruns, feeling like Billy No Mates. Need I remind you that you didn't want to go in the first place? And that you were quite happily drinking a cold beer and eating pizza in your fuzzy slippers before being summoned by the tablet of trepidation to see what you traded off on? Champagne, sushi and oysters? Goody bags from Net-a-Porter? Hanging out with David Gandy? WHHHHHHHHHY?
Why, indeed. Our attachment to FOMO is a sticky wicket of a habit but one not beyond cutting loose, provided we're prepared to shift our perspective, swap a consonant and reframe missed opportunities as deliberate decisions. It's time to turn FOMO (fear of missing out) into JOMO (joy of missing out). Just ask Anil Dash, writer, activist and friend of Caterina Fake, who upped the acronym ante in 2012 on his blog with a post called 'JOMO!' that celebrated the emotional agency of periodic unplugging to reconnect with what really matters. By putting more 'free' in our time, we can balance our online and offline lives, eliminate regret and allow satisfaction to crowd out the meaningless soundbites that wreck our heads. In short, JOMO allows for mindfulness, freedom and space to think. You don't know what you're missing out on – and you don't want to either. Sounds like a happy medium to me.
A bit like my mother, we all need to press Ctrl-Alt-Delete every once in a while so that we can reboot our system. We took our first tentative steps in creating a happy balance with the digital detox in Chapter 2. Now we're going to look at how we can establish boundaries to increase the peace and protect our quality time so that JOMO becomes second nature. No more trading off on life's sweet small moments. The buck stops here. And it all starts with a well-placed 'no'.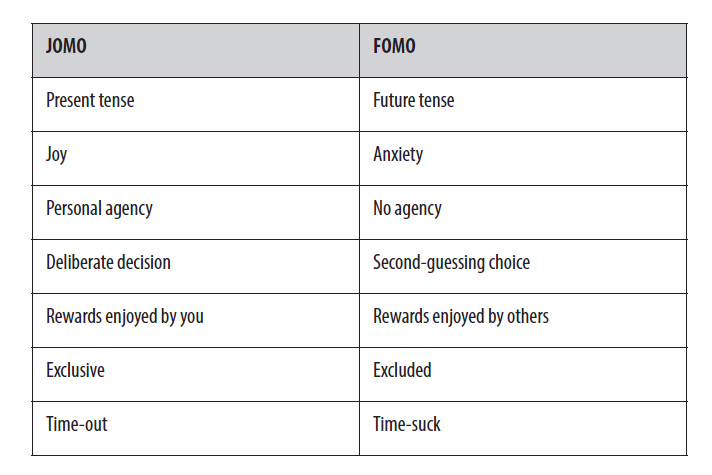 Keep up to date with Annmarie O'Connor on Facebook, Twitter, Instagram and her website.
Also by the author: The Happy Closet
'A well-written guide to balancing how you look and how you feel,' Irish Times Magazine
'A brilliant book delivered with O'Connor's trademark wit,' Sunday Business Post Magazine
'This book will transmogrify your wardrobe and your mind to a Zen, clutter-free zone,' Irish Tatler
About the Author

Annmarie is an award-winning fashion writer, stylist and author of The Happy Closet – a self-help guide to balancing well-being and being well-dressed.

Her editorial and styling work has appeared in publications such as the Irish Examiner, Sunday Times Style magazine, The Irish Times, Irish Tatler, Image and The Gloss. She has also styled for London Fashion Week, The Voice of Ireland and clients like LVMH, Harvey Nichols, Brown Thomas and BT2. On air, she is a regular contributor to The Dave Fanning Show, The Ryan Tubridy Show; TV3′s Xposé and RTÉ's Today show. She is editor of the Louis Vuitton City Guide to Dublin 2012. She is a self-styled inexpert expert on the subject of mindfulness.