Chilling in Cork? Surfing in Spain? Frolicking in Fiji? Wherever your holiday adventures take you this summer (even if it's no further than the paddling pool in your garden) we've picked 3 books that are perfect for summer reading. So, put the phone down, relax and discover three titles that will have you so engrossed you'll forget where you are.
We are giving 20% off these books on our website when you use coupon code SUMMERREADS at the checkout!
If you're looking for something inspiring, laugh out loud funny with a heavy dose of nostalgia, this is the book for you. The perfect poolside companion.
'Get out of my head, Jules! An unexpected, unapologetic, brutally honest read with a few giggles along the way ... loved it.' Jennifer Zamparelli
About the book
For every woman who's ever looked in the mirror and felt crap.
Jules Coll was a slim child, which was misleading in a way, as she spent her formative years doing little other than consuming vast quantities of sugar and plotting to secure her next fix. It wasn't until her late teens, when hormones began playing havoc with her metabolism, that Jules' diet began to take its toll. Year on year, pound by pound, her weight began to tick upwards until she was tipping the scales at 19 stone.
Self-esteem at rock bottom, her love life on life support, Jules decided it was time to contemplate a radical change. Flabyrinth is the story of Jules' escape from maximum insecurity prison. As well as sharing her journey from thin to fat and back again, it's a hilariously, refreshing and honest take on what it feels like to be a girl!

Catch up with Jules on Facebook, Twitter, Instagram and on Snapchat.
Flabyrinth is available on our website, Eason, Dubray, Amazon and in all good bookstores.
The meditative letters in this book will make you feel like Mary is sitting with you as you read. Great one to enjoy on a summer's evening whilst contemplating life in your garden.
'Candid, often moving, and offers some extremely interesting glimpses behind the political scene.' The Sunday Times
About the book
As she turns 80, Mary O'Rourke writes a letter to 20 people, past and present, close and distant, living and deceased.
To her beloved brother, Paddy … to the Athlone Fianna Fáil Women's Group … to Mo Mowlam … to a young couple embracing on a bridge … to a past professor … to a cousin in America …
Every letter is heartfelt, every letter offers gratitude for the difference the recipient made to Mary's life. At once universal and deeply personal, Letters of My Life is a book of consideration and appreciation, and offers an illuminating insight into one of Ireland's best-loved figures.
Letters of My Life is available on our website, Eason, Dubray, Amazon and in all good bookstores.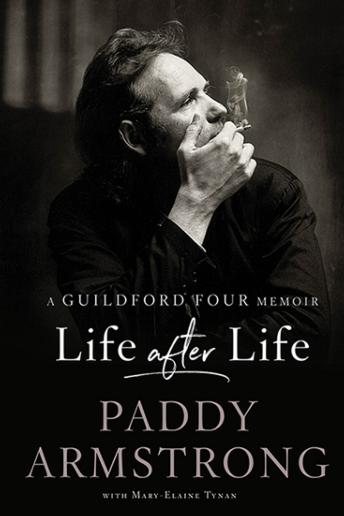 This valuable book grips you from the start as it tells the human story of miscarriages of justice, honestly and poignantly. Ideal for long journeys as it's so hard to put down.
By Paddy Armstrong with Mary-Elaine Tynan
'Paddy Armstrong's account of his wrongful conviction and imprisonment is as gripping as a work of fiction. It is an extraordinary, terrifying story. I am familiar with just about all the considerable body of memoirs arising from the miscarriages of justice of the 1970s, but I can say without equivocation that this is the best. Beautifully written. If it were a work of fiction, it would be worthy of the Man Booker shortlist.' Chris Mullin, The Observer
About the book
Looking back over the last six, almost seven decades, the images that flash through my mind are hardly believable – sometimes, it feels like I'm remembering someone else's life. The truth is, I've lived three very different lives: the one before prison; the one in prison; and my life since then. It has taken years to make sense of it all, but now I've found a voice to speak about it.
Paddy Armstrong was one of four people falsely convicted of The Guildford Bombing in 1975. He spent fifteen years in prison for a crime he did not commit.
Today, as a husband and father, life is wonderfully ordinary, but the memory of his ordeal lives on. Here, for the first time and with unflinching candour, he lays bare the experiences of those years and their aftermath.
Life after Life is a testament to the resilience of the human spirit and the power of forgiveness. It reminds us of the privilege of freedom, and how the balm of love, family and everyday life can restore us and mend the scars of even the most savage injustice.
Life After Life is available on our website, Eason, Dubray, Amazon and in all good bookstores.
Happy summer reading. We hope these recommended books make their way onto your bookshelf, beach bag or carry-on luggage this summer! Check out our bookshop for more inspiration.
Follow us at @Gill_Books on Twitter, gillbooks on Instagram and like us on Facebook to keep up to date with our latest news and events.