With the weather so good it would be criminal not to dine al fresco this June Bank Holiday weekend. We've selected a few different recipes from our amazing authors which are perfect for summer eating. Don't forget to apply your sun cream!

Eat Yourself Beautiful by Rosanna Davison - Spicy Pineapple Salsa

This deliciously easy to make salsa will tick all your summer taste buds. Read below for directions and what inspired Rosanna to include it in Eat Yourself Beautiful.

This is a Mauritian-inspired dish that is often served at our favourite hotel on their Mauritian buffet night. I always end up spooning a pile of it onto the side of my plate, as it seems to go with everything. I love the contrast of sweet, juicy pineapple with the coriander, crunchy peppers, cucumber and spicy jalapeño. Pineapple is also an excellent food for stimulating your digestive enzymes, so try to eat this salsa with a starter course to get the most health benefits.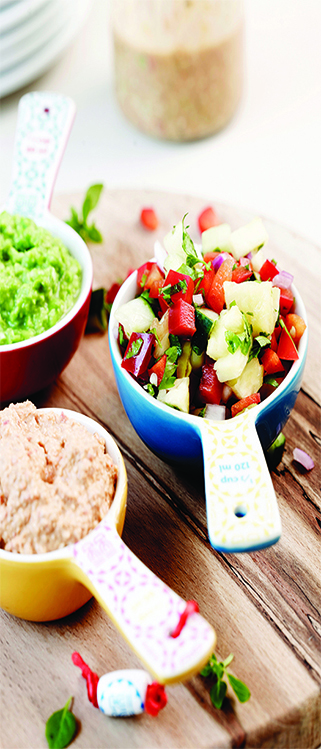 Spicy Pineapple Salsa
Ingredients

250g fresh pineapple, finely diced
100g cucumber, deseeded and finely diced
1 red pepper, deseeded and finely diced
1/2 large red onion, finely diced
3 tbsp finely chopped fresh coriander
3 tbsp freshly squeezed lime juice
2 tbsp finely diced jalapeño
Himalayan pink rock salt and
freshly ground black pepper
Directions

Combine all the ingredients in a mixing bowl. Season to taste with salt and pepper.
Mix well and allow to sit for 10–15 minutes to let the flavours develop.
Serve immediately or keep refrigerated until ready to serve.

If making the salsa ahead of time, it can be stored in an airtight container
in the fridge for up to three days.
Chapter One by Ross Lewis - Pearl Tapioca and Knockdrinna sheep's cheese with summer peas, broad beans and black garlic

If you are aiming to impress this first course dish from Chapter One by Ross Lewis will do that and more. Read below to find out how to take your cooking to the next level and for the inspiration behind this delicious dish.

I like the surprise of this dish, tapioca normally being a dessert. It relies on the combination of different textures and a very soft, gelatinous type of creaminess from the tapioca. There is a dark molasses-like sweetness from the black garlic, which is a wonderful counterpoint to the creamy–salty sheep's cheese. It is comfort food elevated to another level with a great Irish twist.

Pearl Tapioca and Knockdrinna sheep's cheese with summer peas, broad beans and black garlic
Ingredients

For the pea purée
25g butter
100g onions, sliced
1/2 garlic clove
250g fresh or frozen shelled peas
1 fresh sage sprig
1 fresh tarragon sprig

For the tapioca
100g shelled broad beans
100g fresh shelled peas
1 litre chicken stock (see below)
1 litre water
160g tapioca
35g Pecorino, finely grated
60g Knockdrinna sheep's cheese, finely grated
225g crème fraîche

To serve
300ml chicken stock (below) or water
4 black garlic cloves, thinly sliced
8 fresh pea shoots

Serves 8

Directions

Pea Purée
Melt the butter in a small pan. Sweat the onions and garlic over a low heat until softened. Add the peas and herbs to the onions along with a pinch of salt. Bring to the boil and simmer until the peas are just cooked, then purée in a blender. Pass through a fine chinois and cool quickly to retain the green colour.
Tapioca
Blanch the beans in boiling water until just cooked and then refresh in a bowl of iced water. Peel off the tough outer skins. Next blanch the peas in the same way. If they are very large, peel off their skins as well, but this is not necessary. Bring the stock and water to the boil, then add the tapioca and a pinch of salt, and reduce to a simmer. Cook the tapioca for 15 minutes or until a small white dot remains in the middle of the grain, stirring continuously. Drain in a fine chinois and rinse under warm running water until the stickiness washes away. Mix together the Pecorino, Knockdrinna and crème fraîche.

To serve
Reheat the tapioca with the stock or water. Stir in the cheese mixture. The texture should be like a creamy risotto. Stir in the peas and beans, and season with salt and black pepper. Put 2 tablespoons (30g) of pea purée in each warmed serving bowl, and add 100 g of the tapioca and the black garlic slices. Garnish with a sprig of fresh pea shoot.

Chicken Stock
Makes about 5 litres
4 kg chicken carcasses and/or chicken wings
10 litres water

Place the chicken bones in a large stockpot and cover with the water. Bring to the boil, then reduce the heat and cover with a lid. Simmer gently for 3 hours. Strain the stock through a colander and then through a double layer of muslin. This will keep for a week in the fridge and it also freezes well.
Food for the Fast Lane by Derval O'Rourke - Chickpea and Mango Salad

Are you looking for something fresh, nutritious and straight forward? This Chickpea and Mango Salad from Food for The Fast Lane by Derval O'Rourke is perfect for busy people with a packed bank holiday social schedule. Read below for how to make it.

This recipe makes two large portions and would be a perfect lunch when served with some Happy, Healthy Bread (recipe in Food for The Fast Lane). The salad is also a great side dish for quinoa, baked fish or grilled meat. I like to make a double batch of the dressing because it keeps well in the fridge and gives me plenty of salad options in the days that follow.

Serves 2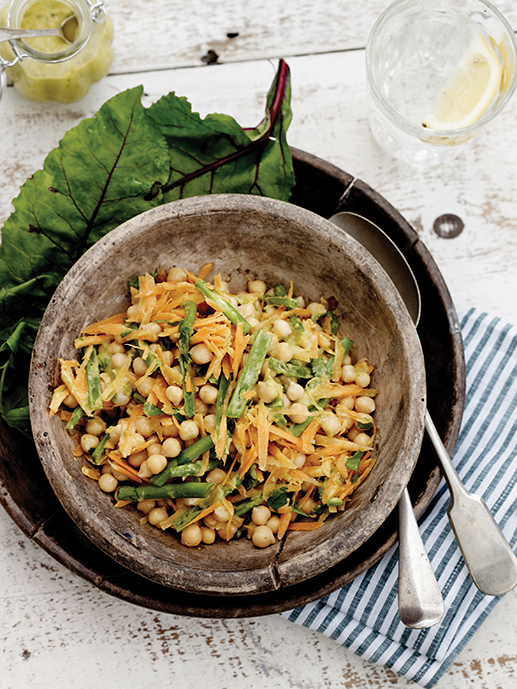 Chickpea and Mango Salad
Ingredients
For the dressing
3 scallions, trimmed
½ mango, peeled and chopped
½ tsp paprika
3 tbsp olive oil
juice of 1 lime
a pinch of salt

For the salad
400g tin of chickpeas, drained
2 carrots, peeled and finely sliced
a handful of green beans, sliced crossways
2 tbsp finely chopped fresh coriander
Directions

Place all of the ingredients for the dressing in a food processor (or use a hand blender) and blitz until combined. Place the chickpeas in a large serving bowl, tip in the mango dressing and stir to combine. Add the carrots and green beans and toss well. Sprinkle over the coriander and serve.
Neven Maguire's The Nations Favourite Food Fast - Ribeye Steak with chimichurri

No summer eating guide would be complete without a barbeque option. This delicious recipe is taken from the number 1 best seller Neven Maguire's The Nations Favourite Food Fast. Read below to find out how to up your barbeque game this summer!

Chimichurri is a green sauce that is traditionally served with barbecued or grilled meat in Argentina. Rib-eye is my favourite cut of beef for a steak, as it has the perfect balance between flavour and value for money.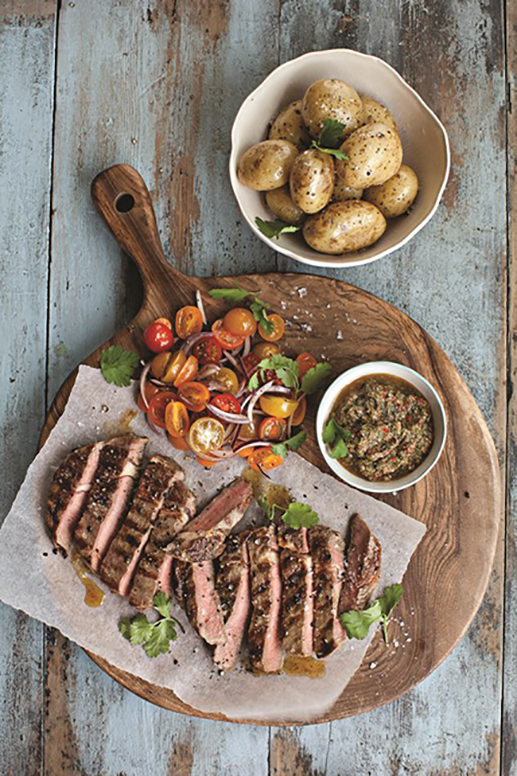 Ribeye Steak with chimichurri
Ingredients
450g (1lb) baby new potatoes
4 x 200g (7oz) rib-eye steaks, well-trimmed
1 tbsp olive oil
fresh coriander leaves, to garnish
fresh cherry tomato and red onion
salad, to serve

Chimichurri sauce
4 spring onions, trimmed and chopped
4 garlic cloves, peeled
1 red chilli, seeded
1 bunch fresh flat-leaf parsley
3 tbsp red wine vinegar
2 heaped tsp dried oregano
pinch of hot paprika
pinch of ground cumin
sea salt and freshly ground
black pepper
Directions

Place the new potatoes in a steamer and sprinkle over a little salt, then cook for about 15 minutes, until tender.

Meanwhile, heat a barbecue or cast-iron griddle pan. Rub the steaks with a little olive oil and season with salt and pepper. Place on the barbecue or griddle pan for 3–4 minutes on each side for medium rare – leave them on a little longer if you prefer your meat more well done. Transfer to a warm plate and loosely cover with foil. Set aside to rest for about 5 minutes.

To make the chimichurri sauce, put the spring onions, garlic, chilli, parsley, vinegar, oregano, paprika, cumin and 3 tablespoons of water in a liquidiser and blend to a smooth sauce. Divide among 4 dipping bowls.

Carve the steaks on the diagonal and arrange a steak on each platter or warmed plate. Garnish with the coriander leaves and add the cherry tomato and red onion salad and a dipping bowl of the chimichurri sauce. Serve with a separate dish of the steamed new potatoes.

The Extra Virgin Kitchen by Susan Jane White –Ice Pops

These surprisingly simple ice pops from The Extra Virgin Kitchen by Susan Jane White are a healthy alternative to shop bought treats. Perfect for cooling down on a summers' evening!

Read below for how to make them and some extra tips from Susan Jane.

Get yourself some fetching ice pop moulds on Amazon. You could also use paper espresso cups from your local café if you ask nicely! Fill three quarters high with ice pop mixture, cover with tinfoil and gently pop a wooden stick through the centre of the foil. Freeze as usual. Ta-da! Takeaway espresso cups (as opposed to regular paper cups) are lightly lined, making it easier to remove the pop. Nifty, huh?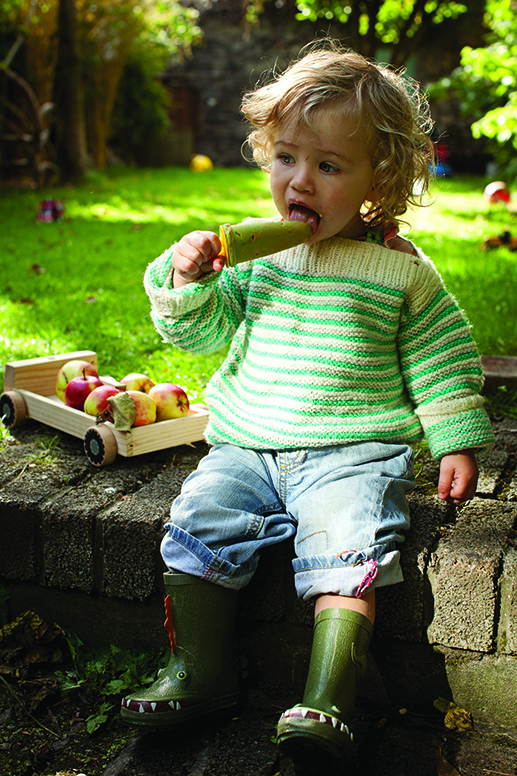 Ice Pops
Ingredients

Isotonic Pops
500ml young green coconut water
Pour into moulds and freeze for 8 hours. That's it!

Octonaut Ice Pops
My little buddies love The Octonauts. These cartoon sea creatures eat lots of kelp seaweed. One day, Benjamin asked me for green ice cream, just like Captain Barnacles. I couldn't resist, so here it is.

4 pears, peeled and chopped
1 small avocado
1 tablespoon wheat grass or barley grass powder
Directions

Cook the pears in a splash of water for 6–8 minutes. Keep the lid on to retain the juices. Purée with the flesh of the avocado and the wheat grass powder. You can try adding slices of kiwi too if you think your little one will eat it. Pour into ice pop moulds and freeze for 8 hours. Enough to fill 6 regular pops.

Neven Maguire's Complete Baby and Toddler Cookbook – Fish Footballs with Minty Yogurt Dip

Ireland's most trusted Chef Neven Maguire shows you how to give your little one the best start in life with honest to goodness recipes and advice. These delicious fish footballs from Neven Maguire's Complete Baby and Toddler Cookbook is fun and tasty!

It is important to introduce babies to fish at a young age and these freeze brilliantly. My twins absolutely loved these football-shaped fish cakes as they were able to pick them up and eat them all by themselves. A dip made from some natural yoghurt mixed with a little mint makes a nice accompaniment. Makes about 50 small footballs.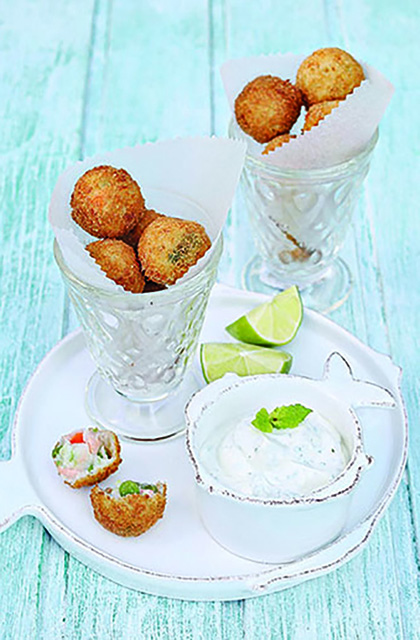 Fish Footballs with Minty Yogurt Dip
Ingredients

200g salmon fillet
300ml milk
200g frozen diced
vegetables (to include sweetcorn and carrots)
450g leftover mashed potatoes
3 spring onions, finely chopped
4 tbsp plain flour
2 eggs, beaten
100g dried white breadcrumbs (panko)
olive oil, for cooking
lime wedges, to serve (optional)
Minty Yogurt Dip
150g natural yoghurt
1 tbsp finely chopped
fresh mint

Directions

Place the salmon in a saucepan with the milk, cover and bring to the boil. Remove from the heat and leave for 5 minutes to finish cooking, then remove the fish and break up the flesh into rough flakes, discarding any skin and bones.
Cook the frozen mixed vegetables in a saucepan of boiling water over a medium heat for 3–4 minutes, until tender, or according to the packet instructions. Drain and tip into a bowl. Add the poached salmon, mashed potatoes and spring onions. Take walnut-sized spoonfuls of the mixture and shape into balls. Dust with flour, dip in the egg and roll in breadcrumbs.
If you don't intend to use the fish footballs immediately, flash freeze them on solid baking sheets, then pop into freezer bags for long-term storage. Heat some sunflower oil in a non-stick saucepan and deep-fry the footballs in batches for 2–3 minutes, or 6–8 minutes if cooking from frozen. Of course you can shallow fry them, but they will not keep their round shape as well.

To make the minty yoghurt dip, stir the mint into the yoghurt. Drain the footballs well on kitchen paper and arrange on plates with small dipping bowls of the minty yoghurt and lime wedges, if using, to serve.

We hope you make the most of the gorgeous bank holiday weather and that you find a recipe here that works for you. Happy summer eating!
Follow us at @Gill_Books on Twitter, @gillbooks on Instagram and like us on Facebook for the latest author news.