[Recipe] Lemon Soufflé
03-06-2014 11:45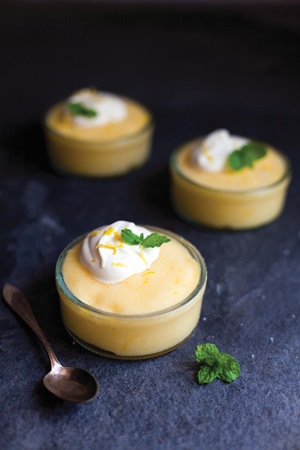 There's nothing like a refreshing dessert on a sunny day. Try this recipe for Lemon Soufflé, taken from a classic cookbook by Theodora FitzGibbon, now revised and photographed by Donal Skehan!

This is a very fresh, unfatty soufflé which can also be made with orange, lime and grapefruit instead of lemon.

Serves 4–6

4 large eggs, separated
175 g (6 oz) sugar
finely grated rind of 1 lemon
3–4 tablespoons lemon juice
1/2 oz (15 g) powdered gelatine

Combine the egg yolks, sugar and finely grated lemon rind and juice, and mix very well with a wooden spoon. Dissolve the gelatine in 150 ml (1/4 pint) water in a saucepan, stirring over a low heat for a minute or two. Pour into the lemon mixture in a steady stream, stirring from time to time to blend well. Leave for about half an hour until it begins to set. Beat the egg whites stiffly. With a metal spoon, add the beaten egg whites, getting right down to the bottom of the mixture. Pour into serving dishes and chill to set.

The Pleasures of the Table. Rediscovering Theodora FitzGibbon with photographs by Donal Skehan is now published by Gill Books - buy NOW from our online shop or all good bookshops nationwide!

Comment on this article