Irish Lobster aka Dublin Lawyer
26-06-2014 12:30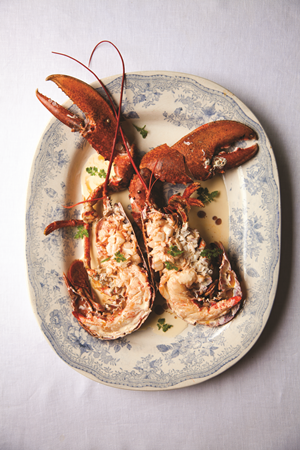 Something for the weekend? How about a Dublin Lobster, served with a whiskey and cream sauce, cooked according to the classic recipe by Theodora FitzGibbon and now photographed by Donal Skehan. It's divine!

"Dublin Lawyer is a traditional method of serving lobster which is extremely delicious. If possible make this dish with a raw lobster, that is one which has been killed just before cooking by plunging a sharp instrument into the cross on the head. However, a lightly cooked lobster can be used and will still be extremely good. This dish can be served with boiled rice if liked." - Theodora FitzGibbon

Serves 2

1 fresh lobster, about 1 kg (2 1/4 lb), cut in two down the centre
3 heaped tablespoons butter
4 tablespoons Irish whiskey
150 ml (1/4 pint) cream
salt and pepper

Remove all the meat from the lobster, including the claws, and retain the shells for serving. Cut the meat into chunks. Heat the butter until foaming and quickly sauté the lobster chunks in it until just cooked but not coloured. Warm the whiskey slightly, then pour over the lobster and set fire to it. Add the cream, mix with the pan juices and taste for seasoning. Put back into the half shells and serve hot.

This recipe features in The Pleasures of the Table. Rediscovering Theodora FitzGibbon. Over 150 classic dishes from Ireland's much-loved food writer, selected and photographed by Donal Skehan, now available in all good bookshops and online!

Tags:
Donal Skehan
,
Dublin lobster
,
Food
,
Food & Drink
,
For Foodies
,
Gill Books
,
Irish lobster
,
cookbook
,
recipe
,
theodora fitzgibbon
,
traditional Irish cooking
Comment on this article