Food Philosophy in Chapter One
08-10-2013 12:00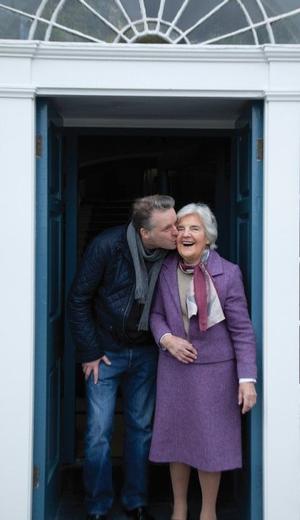 From artisan cheese to Irish beef and lamb, local honey and sea vegetable from Donegal – Chapter One Restaurant and its proprietor, Ross Lewis, are championing what's best in Irish cuisine, promoting local producers and their passion for preserving our great food traditions. Good cooking starts with good produce, and in his blog, Ross explains the philosophy behind every plate of food served in his Michelin-starred restaurant.

Good cooking starts with good produce, and when you have the richness of the Irish larder to choose from, there is an opportunity to really soar. What you see on a plate in Chapter One is an expression of many artisans, various landscapes and hardworking talent. All that happens long before we've even started cooking. Many of our specialist growers and artisan producers have been supplying us since the earliest days in the nineties. Our Northside Dublin location was a notoriously difficult place to trade in, yet people who cared about food came and suppliers who were passionate about their uniquely Irish produce came too – integrity of produce was what united us.

They inspired me and my cooking. The landscape and the seasons inspired me too. The new Irish artisans were like a palette of flavours and textures to play with. A path had already been carved out for them by the artisan cheese sector and by people like Veronica Steele and Myrtle Allen, but I'd always wanted Chapter One to be an Irish restaurant with an international standard. I spent some time in Ferran Adrià's El Bulli in Catalonia in 1996. He is possibly the most influential chef of the last 50 years and his genius helped me develop a new way of thinking about food. This was a radical change for me but one inspired by my own landscape, raw materials, artisan producers and craftspeople. On short trips to Brittany I met Olivier Roellinger who owned a three-starred Michelin restaurant in Cancale and now devotes his life to the promotion of spices in cuisine through his spice shops Epices Roellinger in Paris and Saint-Malo. He opened up a world of spices for me, which have a very real and historical relevance to British and Irish food.

Since the beginning of Chapter One, I have tried to look at food with an open mind and coloured in the pictures of flavour and texture through a slow progression of self-development. Today our food is part of a story that is still unfolding, but it will always reflect honesty and integrity because these elements are the very soul of our food.

Ross Lewis
Chapter One

Chapter One. A story of Irish Food by Ross Lewis with photography by Barry McCall is published on 1 November by Gill Books.

Visit our gallery of photographs by Barry McCall on Pinterest, featuring some of the artisan producers, working closely with Ross in Chapter One – from Kitty Colchester's extra virgin rapeseed oil, to Fingal Ferguson of the award-winning Gubbeen Smokehouse, Irish food scene is going from strength to strength!



Tags:
Achill Island Black Faced Lamb
,
Avid Llewellyn's Orchard
,
Barry McCall
,
Boudin Noir black pudding
,
Chapter One
,
Cookery
,
Eoghan Mac Giolla Coda
,
Food
,
Food & Drink
,
Gubbeen Smokehouse
,
Irish honey
,
Irish lamb
,
Kitty Colchester's Second Nature extra virgin rapeseed oil
,
Lissadell-Langford Heritage Potato Collection
,
Manus McGonagle
,
Mick Healy of Wild Irish Game
,
Myrtle Allen
,
Quality Sea Veg Company
,
Ross Lewis
,
Veronica Steele
,
sea food
Comment on this article