Enter the Psychiatrist's Room with New Book by Prof. Jim Lucey
25-03-2014 09:00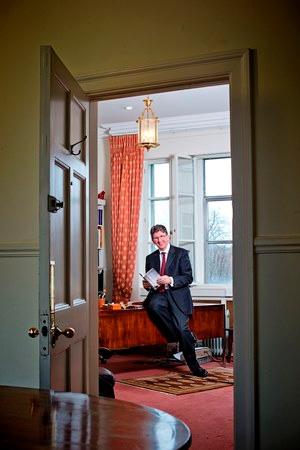 New Book Reveals Real Stories Behind Therapy Sessions Aiming to Stamp Out Mental Health Stigma and Demystify the Hidden Zone that Exists Between the Psychiatrist and the Patient

Professor Jim Lucey, psychiatrist and Medical Director of St Patrick's Mental Health Service, has written a new book In My Room, published today, intended for anyone seeking better mental health. Containing fifteen real-life stories from Lucey's 25 years working with patients towards recovery, the book gives a voice to mental health experiences in a way that everyone can identify with, be it themselves or a loved one.

In My Room tells the stories of patients on a journey to recovery from mental illness. 'I have written this in the hope that it might demystify the hidden zone that exists between the psychiatrist and the patient, and illuminate in part the journey some people take to mental health and recovery,' he said.

Lucey has taken the bold step of telling these stories to the general public in order to break down barriers between patients with mental illness and healthcare professionals. While the patient stories are diverse, one common theme emerges – that of recovery.

Among those you'll journey with in the book are: Liam: 'Sooner or later I will be found out and I just dread to think what is going to happen then'; Alyson: People never trust you again if they find out that you have mental health problems. If I lose that trust I'll never get it back. People will always look at me differently'; Colm: 'I think I am actually getting the hang of this … I will be all right just as soon as I am happy to get it all wrong'; Jack: 'My father was rough, so I don't dwell on childhood. I don't have that many memories – probably better off'; Margaret: 'I feel like I'm knitting myself back to together again … I feel like I'm present … I'm determined to stay well'; Kathleen: 'I needed the doctors to understand that my illness does its own thing.'

One in four people in Ireland are affected by a mental health problem, yet there is still a reluctance to talk about it. The author hopes his book will highlight the importance of finding time and space to discuss our feelings for anyone affected by mental illness.

In My Room is published on 25th March 2014, priced at €16.99. The author's earnings from sales of this book will be given to the St Patrick's Mental Health Foundation, Ireland in support of the Walk in My Shoes campaign that is raising funds for services for young people with mental health problems in Ireland.
Visit inmyroom.org.uk for additional information, podcasts and reviews, and follow Prof. Jim Lucey on Twitter!
#TalkMental

Comment on this article