Check out these delicious Gingerbread Energy Bars from the bestselling author of Eat Yourself Beautiful Rosanna Davison. Rosanna's new book Eat Yourself Fit is now available to pre-order with Eason.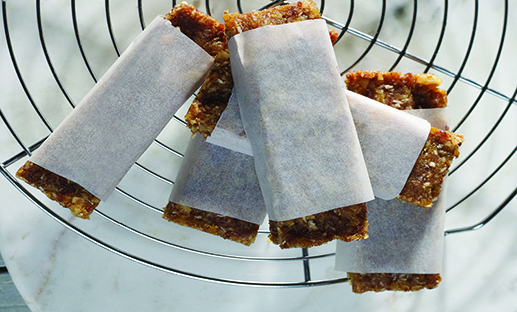 Omega-3 Gingerbread Energy Bars
Omega-3 fatty acids are absolutely essential to include in your everyday diet for their powerful anti-inflammatory properties. They help to keep your skin smooth and are important for maintaining good brain health and regulating hormones. Raw walnuts are one of the best plant-based sources of the nutrient and provide a protein- and fibre rich base for these energy bars. Fresh ginger helps to support your immune system, improves blood flow and supports healthy digestion. These bars are simple to make and are a tasty quick breakfast or snack on the go.

MAKES 16 BARS | PER BAR: 88 CALORIES | 4G PROTEIN | 7G CARBS | 6.6G FAT

Ingredients

150g raw walnut halves
8 dried apricots (organic and sulphur free, if possible)
10 dates, pitted and soaked in hot water for 20 minutes to soften
2 tbsp unsweetened desiccated or flaked coconut
1 tbsp finely chopped fresh ginger
1 tbsp almond butter
1 tsp ground cinnamon
1 tsp vanilla extract
½ tsp ground nutmeg

Directions

1 Place the walnuts and apricots in a blender or a food processor fitted with an S blade. Combine until the mixture becomes a coarse flour. Add the soaked and drained dates, coconut, ginger, almond butter, cinnamon, vanilla and nutmeg and blend until the mixture becomes a sticky dough.
2 Press the mixture into a tray lined with non-stick baking paper and chill in the fridge for 30–40 minutes before slicing into squares and serving. Store in an airtight container in the fridge for three or four days.
We hope you enjoy these bars full of omega 3 fatty acids! Check out Rosanna's website for details on her upcoming workshops, nutrition advice, events and more. Follow Rosanna on Twitter, Instagram and Facebook for all her latest news and recipes.
Follow us at @Gill_Books on Twitter, gillbooks on Instagram and like us on Facebook to keep up to date with our latest author announcements, exclusive content, competitions, news and more.
Check out the recipe in action below or over on our YouTube channel: