Happy 4th of July to all our American friends, a day to celebrate independence and get your eat on! To help you celebrate in style we are sharing two delicious burger recipes from our authors Gearoid Lynch and Neven Maguire. Enjoy with friends and family to experience a truly great 4th of July celebration.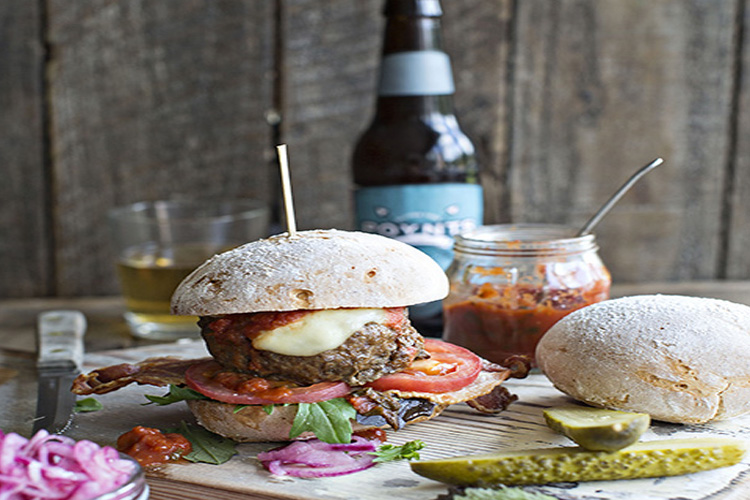 Chef Geroid Lynch's My Gluten Free Kitchen recipe book is a must have for anyone who suffers from coeliac disease and wants to cook delicious gluten free food. Whether you have to cut gluten out of your diet or just feel better when you do this book will help you cook the favourites that you've missed. As a coeliac sufferer himself, Geroid has come up with a range of fantastic recipes that taste amazing. This burger recipe is one for the whole family – coeliac and non-coeliacs alike.
When the Fleadh Cheoil na hÉireann was held in Cavan a number of years ago, I set up a burger bar, which was a great success. It was one food item that I really missed and had to do a lot of homework on after I was diagnosed as being a coeliac. The burger bun is not a soft bun, but rather has a great crust that works well with the burger. To make the buns, sieve the flour, salt and xanthan gum into the bowl of a stand mixer. If using dried yeast, add it at this point too. Add the softened butter and use the dough hook attachment to combine all the ingredients.
Ingredients
Serve 4
for the beef burgers:
450g lean minced beef
2 small onions, finely chopped
2 garlic cloves, crushed
2 egg yolks
1 tsp paprika
1 tsp Dijon mustard
1 tsp gluten-free Worcestershire sauce
8 drops of Tabasco sauce
½ tsp salt
½ tsp cracked black pepper
10ml olive oil
4 slices of mozzarella
2 dessertspoons red onion marmalade
(page 162)
2 dessertspoons homemade tomato
ketchup (page 156)
for the buns:
750g gluten-free white bread flour
blend, plus extra for dusting
2 tsp salt
1½ tsp xanthan gum
40g fresh yeast or 2 tsp fast action dried
yeast
50g butter, softened
425ml water
25ml milk
1 dessertspoon caster sugar
Directions
Mix the fresh yeast (if using), water, milk and caster sugar together to blend the yeast. Add to the dry ingredients and mix with the dough hook for 8–10 minutes. The dough should be wet and sticky.
Leave the dough in the bowl, cover it with cling film and put in a warm place for at least 1 hour. It will increase in size. Dust a baking tray and the worktop with flour. Transfer the dough onto the lightly floured worktop. Cut into 8 equal portions and shape into rounds (or if you want to make slider buns, shape them into smaller rounds). If the dough is too sticky when you are forming the buns, rub some olive oil on your hands. This will prevent the dough from sticking to your hands. Put on the prepared tray, dust with a little flour and leave to prove for 30 minutes. The dough will rise again. Meanwhile, preheat the oven to 200°C. When the buns have risen again, bake them for 20–25 minutes, until they are crusty on top. To check that the buns are done, turn them over and tap the base. If you hear a light, hollow sound, the buns are ready for serving.
Reduce the oven temperature to 180°C.
Heat the olive oil in a large heavy-based frying pan over a medium heat. Add the burgers to the pan and cook for 3 minutes on each side. Once the burgers are well sealed, place them on a baking tray and cook in the oven for 5 minutes to ensure they are cooked all the way through. Before removing from the oven, place a slice of mozzarella onto each burger, then return them to the oven or under a hot grill for 1 minute, just until the cheese begins to melt. Remove from the oven and toast the burger buns. To assemble, put a spoonful of red onion marmalade on the bun, followed by the burger and cheese. Top with ketchup and finish with the other half of the bun. It may need to be held together with a cocktail stick.
Get ahead
You'll make eight burger buns but you only need four for these burgers. The leftover buns can be frozen after they are baked and thawed when required.
Neven Maguire's Complete Baby and Toddler Cookbook is the perfect guide that will take parents from thier baby's first tastes, through all the stages of weaning, right up to family mealtimes and beyond. These beef sliders are perfect for a 4th of July celebration for kids and also serve well as party food for all ages!
This is an all-American beef burger packed full of flavour and guaranteed to be a winner. Grill, pan-fry or barbecue to your liking. The burgers can be prepared in advance, ready to cook, and the tomato relish will keep well covered in the fridge for a couple of days, leaving very little to do at the last minute.
Ingredients
Makes 12 sliders
For the burgers:
500g minced beef
1 tbsp olive oil
12 mini brown burger buns, split in half
2 tbsp mayonnaise
25g shredded crisp lettuce
For the tomato relish:
1 ripe tomato
1 tbsp olive oil
1 small onion, finely chopped
1 small red pepper, seeded and finely chopped
1 tbsp red wine vinegar
½ tsp maple syrup
freshly ground black pepper
Directions
To make the sliders, place the minced beef in a bowl and season lightly with pepper. Divide the mixture into 12 portions and shape each one into a small patty shape. Cover with cling film and chill.
To make the tomato relish, cut a criss-cross at the bottom of the tomato and then put into a bowl of boiling water for 1 minute. Remove and peel off the skin when it's cool enough to handle. Cut the tomato into quarters and remove the seeds and cores. Dice the flesh. Heat the olive oil in a small saucepan over a medium heat. Add the onion, red pepper, tomato, red wine vinegar and maple syrup and season lightly with pepper. Bring to a simmer and cook for about 5 minutes, until thickened. Remove from the heat and leave to cool. Heat a large frying pan over a medium heat. Add the olive oil and then add the burgers. Cook for about 4 minutes on each side, until they are cooked through. Preheat the grill to medium and lightly toast the split burger buns, then arrange on plates and add a smear of the mayonnaise to the bottom of each one. Top with a small pile of the lettuce and then add the burgers and a small spoonful of the tomato relish. Cover with the lids to serve.
Happy 4th of July eating ya'll! For recipes like these and more visit our cookery section in our online bookshop.
Follow us at @Gill_Books on Twitter, gillbooks on Instagram and like us on Facebook for the latest author news.