Conor McGregor signs book deal with Gill Books
24-07-2014 12:15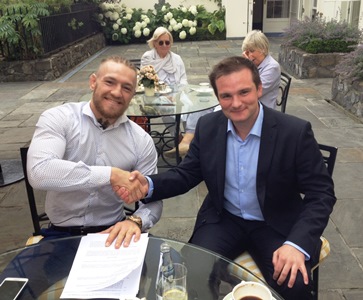 Fresh from his outstanding victory in the O2 on Saturday night, which sold out in less than 20 minutes and gave 3e its highest rated sporting event in the channel's history, MMA phenomenon Conor McGregor has signed a book deal with Gill Books.

Provisionally entitled Notorious: My Life in and Out of the Octagon, the book will be part memoir, part philosophy in which McGregor reveals the secrets to his incredible work ethic and 'unshakable belief.'

'We think the world needs something as positive as Conor McGregor's book' said Conor Nagle, Commissioning Editor for Gill Books, who acquired the book for an undisclosed sum. 'Fans will love to read about Conor's journey so far, the technicalities of the sport, but more than anything, the sheer self-belief of an incredibly committed man'.

McGregor, who has received tweets this week from Niall Horan, Katie Taylor and Arnold Schwarzenegger, who has dubbed him 'The McGregor-nator', revealed 'This book is going to have magic. I'm ready to tell my story and to give something back to my fans who have been with me from the beginning.'

The contract was signed Tuesday at The Merrion Hotel, Dublin and was filmed as part of Conor's new documentary to be aired in January 2015.

The book will be published in autumn 2015.

Notes to editors:

Gill Books is a division of Gill Books, Ireland's largest publisher. Publishers of outstanding non-fiction in biography, cookery, history, current affairs, MBS, gift books, reference and lifestyle, its substantial list of successful authors includes Darina Allen, Susan Jane White, Tony Bates, Richard Aldous, Dr Eva Orsmond, Noël Browne, Gay Byrne and Mary O'Rourke . Significant publications include Tom Gilmartin, Strumpet City, Soundings, The Encyclopaedia of Ireland, The Pope's Children and Chapter One. Its origins date back to 1856 when MH Gill & Son, whose portfolio included printing and bookselling, was founded in Dublin. The bookshop, which stood on Dublin's O'Connell Street for 123 years and is referenced in James Joyce's Ulysses, can now be found online at www.gillbooks.ie.

Conor McGregor is an Irish mixed martial artist. He is currently signed with the Ultimate Fighting Championship, fighting in their Featherweight division. Following his outstanding victory by TKO over Diego Brandão on 19 July at the O2 in Dublin, he is now number 10 in official UFC Featherweight rankings.Born and raised in Dublin, Ireland, McGregor made his professional MMA debut in March 2008. Over the next two and a half years, he amassed a record of 14-2. In February 2013, the UFC announced that they had signed McGregor to a multi-fight contract and he made his UFC debut against Marcus Brimage in April 2013, winning via TKO just over a minute into the first round. His next fight is against Dustin Poirier in Las Vegas on September 27, 2014.

For publicity enquiries, please contact Teresa Daly, Communications Manager, Gill Books, 01 500 9521, 086 838 3559, tdaly@gill.ie. High resolution image available on request.
For more updates, follow Gill Books on Twitter @GillandMac, and Conor McGregor @TheNotoriousMMA.

Comment on this article