'HOW TO BE MASSIVE is funny, affectionate, and very, very sharp. Almost social history and always great fun, this book is - well - massive.' - Roddy Doyle
Through her popular Instagram account, 'Your One Nikita', illustrator Aoife Dooley has made the spice bag part of our everyday language. Informed by her experiences growing up in Coolock and affectionately parodying fiery working-class Dublin women, it provides the inspiration for her hilarious and brilliantly observed first book, How to be Massive. Its central character is the irrepressible Nikita.
Wha's inside?

In How to be Massive Nikita shares her illustrated guide to being massive, including:

• Masso hair and how to hide a naggin in yizzer hun bun
• Eyebrows so on fleek even the Kardashians won't have a patch on ye
• Contouring that'll cover a five-spicebag-a-week double chin
• The essentials for yizzer 'stun hun' wardrobe – Penneys' best
• Online dating and how to meet the fella of yizzer dreams or Tom Hardy
• Sorting yizzer heads righ' out when ye have the worst hangover in the world
• Life hacks, like how to get yizzer air max pure white again
About the publication of How to be Massive, Nikita says:
"Me first book is comin' yizzer way that you'll be able to buy in the shops an all! Swear! I'm gonna teach yiz how to be bleddin' massive step by step! I was born pure massive but I'm one of the lucky ones – came straight out of the Rotunda lookin' like this. Lil' beaut of a baby so I was. Not all of us are born stunnin' though, so if you're a rotten pox don't be worryin' – it takes devotion to be this stun hun. Stop!"
How To Be Massive is available on our website, Eason, Amazon and in all good bookstores.
Keep up to date with Your One Nikita on Facebook, Instagram, Twitter and on Aoife's website.
Follow us at @Gill_Books on Twitter, gillbooks on Instagram and like us on Facebook to keep up to date with our latest news and events.
About the author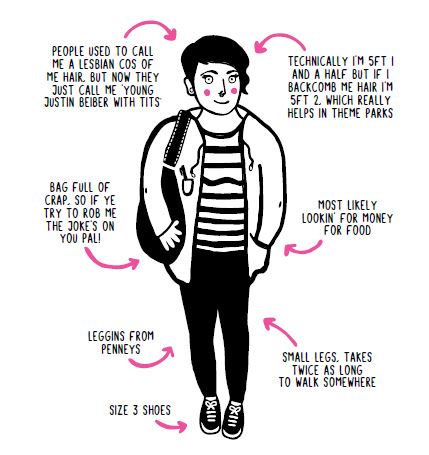 Aoife Dooley's 'Your One Nikita' started as a web series based on life on the northside of Dublin. Aoife illustrates some of her experiences growing up in Coolock, while also taking elements from her family and friends and sometimes earwigging on the bus. It has been shared by FM104, Spin 1038, Q102, her.ie and So Sue Me blog. It has also featured in The Irish Times, Stellar Magazine, Offset and The Ray D'arcy Show.