10 Ways to Save Cash with the Money Doctor
21-01-2015 11:30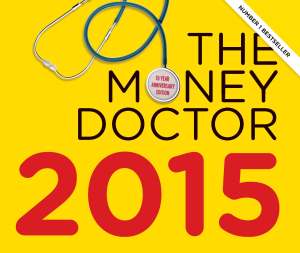 If you are looking for advice on saving money and managing your finances better, The Money Doctor is here to help!
Plan a yearly household budget. Add all your yearly household bills and divide by 12. That figure is the amount you need to put away each month to meet those bills just to run the home. Any capital or 'luxury' spending must be found outside of this annual budget. Remember, if your expenditure exceeds your income, you have two choices: earn more or cut costs.
Check your bank charges on a regular basis and cut down on your banking bills. There are too many cases of overcharging from all the banks to assume that your bank is not one of them! Sometimes, these charges can be waived at the discretion of the manager: if you don't ask, there'll be no waiving. Try and avoid exceeding your overdraft permission if you have an overdraft, as the surcharges and fees are punitive. You should also operate online bank accounts – they offer better deals, are easier to operate and there's no waiting in queues, saving you time and travel expenses. Go to nca.ie or www.bonkers.ie for current account comparisons.
Working from home. If self-employed, reclaim partial costs by working from home, such as electricity, heat and telecommunications.
Always shop with a pre-written grocery list and shop only once a month for your non-perishables. This mean you have to plan for the full month and should not overspend by having to make additional visits to your local convenience shop.
Use vouchers and cut-outs. You'll be amazed how all those little discounts add up to big savings on your shopping bill, and there is no shame in availing of these offers. You may even have a discount offer on the back of your shopping receipt. Watch out for 'double coupon' days too. Look after the pennies and the pounds will look after themselves!
Bring your own lunch to work. Prepare your own sandwich or salad and refill your water bottle, as long as the water is fit to drink from the tap.
Review your car. Does it need replacing? Could you upgrade the model for efficiency purposes? For example, consider a car currently covering 25 miles per gallon (40 kilometres per 4.55 litres!), but if you were to change to a car doing 35 miles per gallon, you would save 40% on fuel costs.
Home heating. Turning your thermostat down by just 1% can save as much as 10% of the actual cost. Remember to switch off the heating when away, even for weekends, and especially at the onset of summer.
Brush up the CV. Keep your CV updated. You never know the day when you may be looking for a job. The most recession-proof employments can be found in education, healthcare, environment, energy and security. If you are not in these industries, you should brush up your skills by going to night classes or doing online course. Whatever you do, don't stay in a sector that is in decline.
Switch off all electronic equipment when not in use. Leaving them on stand-by mode uses 20% of the normal output.
Keep in touch with The Money Doctor on Twitter (@themoneydoc) for more handy tips!
The Money Doctor 2015 Annual by John Lowe is out now - buy online and save 20%. BUY NOW!

Comment on this article